MEDIA ADVISORY
For Immediate Release
November 2, 2021
CONTACTS:
For the Committee on the Present Danger: China
Hamilton Strategies, [email protected],
Kate Piacentino, 610.584.1096, ext. 105,
or Deborah Hamilton, ext. 102
For Women's Rights Without Frontiers
Reggie Littlejohn, 310.592.5722
[email protected]
Stop Vax Passports Task Force Webinar:
Vaccine Mandates for Children: Child Abuse?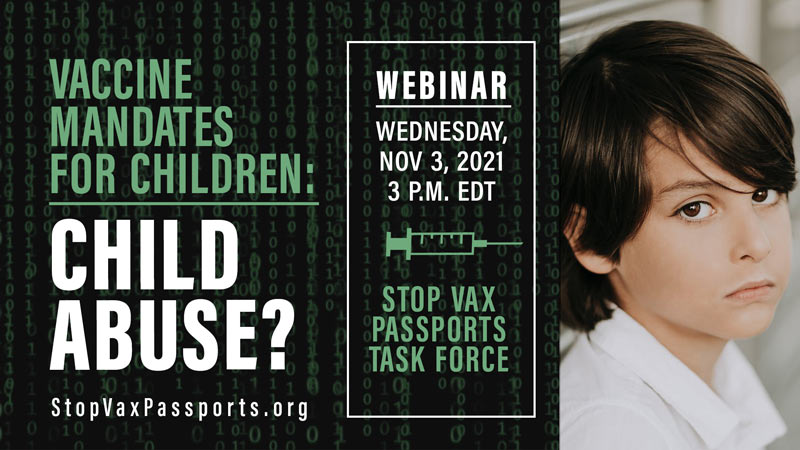 WASHINGTON, D.C.— The Stop Vaccine Passports Task Force will host a webinar on Wednesday, November 3rd from 2-3:30 p.m. ET to present medical evidence that vaccinating children is unnecessary and potentially harmful, to hear an uncensored account of someone injured by the vaccine, and to give voice to parents from California who oppose vaccine mandates for their children.
On October 25, an FDA Advisory Panel endorsed the Pfizer-BioNTech vaccine for children ages 5-11 years. They took this action, despite presentations by experts who raised concerns over the lack of safety and efficacy of the jabs, and nearly 140k comments received from the public with many opposed to the expansion of vaccines to young children. According to the CDC's own website, "Cases of myocarditis reported to the Vaccine Adverse Event Reporting System (VAERS) have occurred: After mRNA COVID-19 vaccination (Pfizer-BioNTech or Moderna), especially in male adolescents and young adults."
Reports of adverse reactions to the vaccine have been suppressed. Where censorship exists, how can consent be informed? The voices of those injured by the vaccine need to be heard.
Emergency shortcuts amid a pandemic may make sense for immunocompromised and the elderly. But for children aged 0 to 18 years, the risk associated with Covid-19 is very low, measuring only .06 percent of deaths.
VAERS shows the number of people with possible adverse reactions including death, blood clots, heart issues, and much more, has far surpassed that of all previous vaccines. At any other time, these vaccines would have been pulled from the market. Instead, people who claim to have been injured by the vaccines are ignored, ridiculed, and censored from telling their stories.
WHO:
Frank Gaffney, Stop Vaccine Passports Co-Chair – Moderator
Reggie Littlejohn, Stop Vaccine Passports Co-Chair – Welcoming Remarks:  Vaccine Mandates Coming for Children
Sister Dede Byrne, Vaccinating children makes no sense.  Unvaccinated people are not "selfish"
Dr. Peter McCullough, MD, PhD, FACC, FAHA, FASN, FNKF, FNLA, FCRSA, Covid-19 MRNA vaccines provide no clinical benefit to Children
Dr. Jessica Rose, PhD, MSc, BSc, VAERS: Adverse event reporting and what the data tells us
Dr. Paul Alexander, PhD, Vaccines for Children — Unnecessary at Best,
Dr. Elizabeth Lee Vliet, The Impact of Covid-19 MRNA Vaccines on Fertility and Hormonal Health
Angela Wulbrecht, RN, BSN, Vaccine injured nurse and her mission to raise awareness
Kathy Turner, CA public school parent opposing vaccine mandates
Danielle Molkenbuhr, CA public school parent opposing vaccine mandates
Michael Ramey, Executive Director for ParentalRights.org and the Parental Rights Foundation
WHAT:
A webinar exposing the adverse reaction risks of the COVID-19 vaccine on children 5-11 years old and why they are unnecessary.
WHEN:
Wednesday, November 3rd 2:00-3:30 p.m. ET
WHERE:
The virtual press conference will be live-streamed.  Register to participate HERE.
* * *
CONTACTS:
Hamilton Strategies, [email protected],
Kate Piacentino, 610.584.1096, ext. 105,
or Deborah Hamilton, ext. 102
For Women's Rights Without Frontiers,
Reggie Littlejohn, 310.592.5722, [email protected]