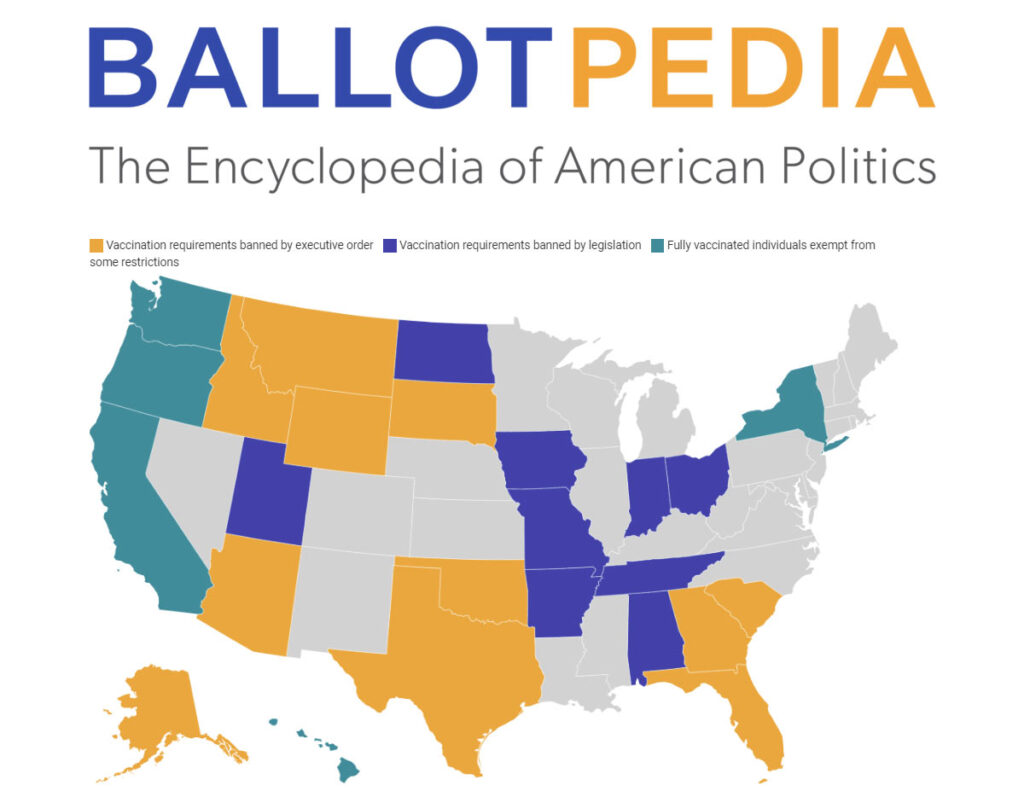 BallotPedia | January 12, 2022
Proof-of-vaccination requirements are business or government requirements that people prove they have been vaccinated against COVID-19. State governments have enacted various rules around the use of proof-of-vaccination requirements in their states, such as banning proof-of-vaccination requirements in some circumstances or implementing policies—sometimes called vaccine passports—that allow vaccinated people to bypass COVID-19 restrictions or engage in activities unavailable to unvaccinated people.
Twenty states, all with Republican governors, prohibit proof-of-vaccination requirements. In eleven states, governors banned proof-of-vaccination requirements through executive orders. In nine states, legislators passed laws banning proof-of-vaccination requirements.
Five states—California, New York, Hawaii, and Oregon, and Washington—have facilitated the creation of digital vaccination status applications or passed laws or enacted orders exempting fully vaccinated individuals from some COVID-19 restrictions if they can provide proof of vaccination. All five states have Democratic governors.
On this page you will find:
Ballotpedia is providing comprehensive coverage on how the coronavirus (COVID-19) pandemic is affecting America's political and civic life. Our coverage includes how federal, state, and local governments are responding, and how those responses are influencing election rules and operations, political campaigns, the economy, schools, and more. As conditions and issues change, so, too, will our coverage.
This page is updated weekly on Wednesdays. We encourage you to share updates with us by emailing [email protected]